What is Z Flashing?
Like other types of flashing, Z flashing is a water-impermeable material that bridges horizontal joints between building materials to prevent water intrusion. It installs under and at the base of an upper component, such as a piece of siding, and extends downward over a lower component. This is typically a roof, window, door, trim piece, or ledger board. Any water or moisture that runs down the upper part is diverted away from the lower one. Z flashing, also called Z bar flashing, is sold in 8- and 10-foot lengths at lumber yards. Common materials include aluminum, galvanized steel, and vinyl (PVC).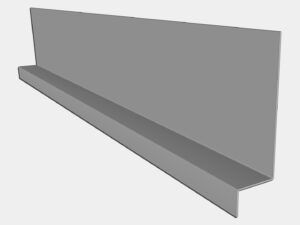 With two bends of approximately 90 degrees, Z flashing resembles a stair step, with an upper leg and a lower leg. (Don't confuse it with step flashing, a type of roof flashing with just one bend.) The upper leg of Z flashing must be tall enough to slip under the building's water-resistive barrier (house wrap or felt) and the siding, while the middle section must be pitched slightly to shed water. The lower leg acts as a drip edge and may have a slight bend at its tip to "kick" water away.
Where is Z Flashing Used?
Use Z flashing on the exterior of structures where a vertical element (typically a wall) meets a more horizontal plane, such as a roof or trim piece. Z flashing also provides a transition between different building materials, such as siding and brick. Building code requirements repeatedly cite the need to use flashing.
Roof-to-Wall Transitions
Install Z flashing where a roof meets a vertical wall, such as at eaves and dormers. It directs the rainwater flowing down the wall toward the roof's shingles.
Doors and Windows
Use Z flashing above doors and windows to direct rainwater away from the openings. Fasten the Z flashing with nails above the window or door frame, and then install siding over the upper leg.
Siding and Trim
Z flashing is commonly used in horizontal siding installations, where the bottom edge of the siding meets a brick, stone, or stucco base. This creates a smooth transition from one material to another and establishes a barrier that prevents water infiltration behind the building's facework.
Deck Ledger Boards
Installing Z flashing over the ledger board is critical to protecting your deck because it's this board that anchors the deck to the house. By keeping water from getting between the ledger board and the building, you prevent the fasteners from corroding and protect the building's rim joist and ledger board from rot.
Chimney and Wall Intersections
Z flashing can be employed where a fireplace chimney intersects an exterior wall to ensure that water doesn't find a way past the finished surfaces of this vulnerable area.
Benefits of Z Flashing
Z flashing is a traditional building product that remains popular for many reasons.
1. Cost
Z flashing is budget-friendly. At big box stores, Z flashing of galvanized steel costs about $1.00 per linear foot. Aluminum costs about half that. If you need wider or deeper Z flashing than standard, expect to pay more.
2. Availability
Home Depot or any building center sells Z flashing. It's also easy to fabricate. A local sheet metal shop can fabricate Z flashing to your desired size.
3. Durability
Metal flashing, like metal roofing, is long-lasting. Aluminum and galvanized steel Z flashing lasts at least 15 to 25 years, often longer. It depends on the thickness of the metal and its exposure to the elements. Copper and stainless steel last the longest. Vinyl is the least durable Z flashing.
4. Choice of Materials
Aluminum, galvanized steel, and vinyl are the most common Z flashing materials. Stainless steel and copper flashing dominates where exceptional durability is required, such as in marine environments. The metals can also serve an aesthetic purpose, such as in historical renovations.
5. Color Selection
Flashing isn't normally considered a design feature worthy of color, but it's good to have options. Stock Z flashing comes in white, brown, black, and zinc-coated galvanized steel. For most applications, that's a sufficient palette. If not, you can paint metal Z flashing any color you like before installing it.
6. Adaptability
If Z flashing isn't available in the size you need, have a fabricator make it in whatever metal you like. Or rent a brake and make your own from sheet or coil stock. If you need to bend just a short section, clamp the metal between two straight boards and bend the legs using a third board.
How to Install Z Flashing
In new construction, Z flashing is nailed to the sheathing and then covered with house wrap and siding. To retrofit or replace Z flashing, remove a portion of the siding and reinstall it.
Exercise caution when cutting, bending, or modifying Z flashing. The metal edges are sharp.
1. Measure
Z flashing comes in different sizes and profiles. Ensure the flashing you choose is wide enough to cover the ledger board or other element and extends up the wall several inches. The exact size depends on the specifics of your project.
2. Cut
Depending on the material, you can easily cut Z flashing to the desired length using common cutting tools like tin snips, aviation shears, or a hacksaw. Make straight, clean cuts.
3. Fasten
Make sure that all the surfaces that the Z flashing will cover are flat and flush. Next, establish where the Z flashing's upper leg, or flange, will terminate on the wall. Snap a level line using a string and chalk box. For extra water protection, apply a sealant or caulk to the top gap at the door, trim, or ledger board. Fasten the Z flashing by nailing the upper leg to the wall. Nail into studs if possible. Place the fasteners about 1 inch from the top edge and space them 16 inches apart.
4. Join
To join sections of Z flashing and maintain weather protection, apply a sealant to the flashing and overlap the ends 2 to 3 inches before you nail it. Recruit an assistant to make the work easier., because even steel Z-bar flashing can get unwieldy.
Can Z Flashing be Customized for Unique Applications?
Yes, a metal fabricator can make custom Z flashing to suit your project. Z flashing can also be cut to accommodate inside and outside corners. It cannot accommodate curved or arched applications or tolerate uneven surfaces or transitions.
How Long Does Z Flashing Last?
Properly installed, Z flashing can last several decades, and some builders will provide a warranty on their work. The longevity depends on the material used, climate conditions, and upkeep. The more extreme the elements—snow, rain, heat, and sunlight—the shorter the Z flashing's service life. Keep dirt and debris from accumulating on or around the flashing to prolong the service life. For example, don't allow tree litter to build up on your deck. It can trap and hold moisture against the siding and flashing and lead to premature failure.